2023
CCEKS FALL
CONFERENCE
CONFERENCE INFORMATION
Early Bird – CCEKS Members = $175 ($225 after October 16th)
Non-Members = $275
Registration Closes Friday, October 20th
 100% refund until October 13th | No refund after October 14th
HOTEL ACCOMMODATIONS
Bluemont Hotel
$119.00/nightly (plus tax)
Room rate includes breakfast and parking.  Suite style rooms may be available for $20 extra per night. 
*******
TO BOOK A ROOM: 
Go to www.bluemonthotel.com
Click on the BOOK ONLINE button at the top of the page.
In the pop-up booking window, click on ADVANCED OPTIONS, and select
"I have a Group Number".
In the next pop-up window, enter code CCEKS23, and click on GO.
You can now review available room types, group pricing, and make your reservation.
Group room block ends Monday, October 2, 2023 
Schedule At a Glance (tentative)
WEDNESDAY, NOVEMBER 1st
1:30 p.m.                      CCEKS Board of Directors Meeting
3:00 p.m.                     Manhattan Downtown Re-Development Tour
4:00 – 6:00 p.m.        Registration
6:30 – 8:00 p.m.        Reception at Shamrock Club at K-State Stadium
THURSDAY, NOVEMBER 2nd
7:30 a.m.                         Registration & Exhibitor Setup
9:00 a.m.                   Welcome
9:30 a.m.                   General Session – Steve Swafford
11:00 a.m.                  General Session – Steve Swafford
12:00 p.m.                  Lunch 
1:00 p.m.                    General Session – Gregory Fine
2:30 p.m.                   Breakout Sessions
4:00 p.m.                   Aggieville Bar Olympics
7:30 p.m.                   Dinner – Bluemont Hotel
8:30 p.m                    Hospitality Room
FRIDAY, NOVEMBER 3rd
9:00 a.m.                    Breakout Sessions
10:30 a.m.                  Breakout Sessions
12:00 p.m.                  Lunch
1:00 p.m.                    General Session
1:30 p.m.                    Conference Wrap-up
Dr. Steve Swafford, IOM
Balance Warrior + CEO
Dr. Steve Swafford, IOM, Balance Warrior + CEO, has worked more than 30 years for and with non-profit and education-focused organizations in areas of strategy, leadership development, communication, membership and executive management. He brings a practical knowledge of strategy and executive leadership with past organizations such as the National Association of Home Builders (NAHB), Club Managers Association of America (CMAA), and American Subcontractors Association (ASA) where he most recently served as the executive director.
He is active in U.S. Chamber of Commerce Foundation's Institute of Organization Management; California Society of Association Executives (CalSAE) and American Society of Association Executives (ASAE) leadership serving on the Board of Directors; past Membership Committee Chair; past Professional Development Committee Chair (aka Purple Cow Posse); Southern California Regional Council; University leadership advisor; and volunteer staff pastor. Steve is also a 15-year faculty member for the U.S. Chamber of Commerce's Institute of Management teaching at the Winter, West, and Southeast Institutes.
He also serves on the Curriculum Committee for the U.S. Chamber of Commerce. A native of Kansas, Steve has a B.S. in journalism from Kansas State University; a M.Div. from Wesley Theological Seminary in Washington, DC; and an Ed.D. from Pepperdine University's School of Education & Psychology focusing on Strategic Organizational Change. Steve has received the IOM (Institute for Organization Management) designation from the U.S. Chamber of Commerce and is Practitioner Faculty for Pepperdine University's Executive, Global, and Full-Time MBA Programs.
Steve is a co-founder of Leadership Outfitters, LLC.
https://leadershipoutfitters.com/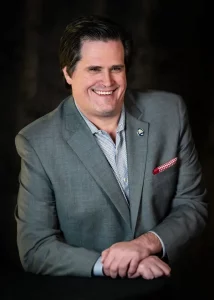 Gregory J. Fine FASAE, CAE
Gregory J. Fine is an accomplished association executive and leader with a proven track record of delivering growth, innovation and value. With more than 30 years of experience in the industry, he is a recognized leader, innovator, mentor and association evangelist.
Prior to joining Tecker International he served as executive vice president and CEO of CCIM Institute, a 13,000-member international professional association. Before that, he was global CEO of the Turnaround Management Association.   
Greg joined TI in 2022 to work with organizations on the front lines of what is likely to be the most transformational period in our industry's history. 
An active member of the association community, Greg served as 2021-2022 Chair of ASAE's Key Professional Association Committee. In addition, he served on the ASAE and ASAE Foundation boards, Association Media & Publishing board (including tenure as president) and the DigitalNow Advisory Group. He currently serves on the faculty for the ASAE CEO Symposium and U.S. Chamber's Institute for Organization Management and was a member of the Chamber's Association Committee of 100. He was invited to join the ASAE Fellows in 2017 
A prolific writer and speaker, Greg co-authored a chapter in Professional Practices in Association Management (4th edition 2021) and has written for FORUM, Associations Now and Signature magazines. He is a sought-after and highly rated speaker for audiences around the world on the topics of strategy, leadership, the multigenerational workplace, association trends, the value of membership, volunteerism, and the power of associations.
Among many awards, Greg was named the 2017 Association Forum Inspiring Leader; the 2009 Young and Aspiring Association Professional by Association TRENDS; and the Angerosa Research Foundation's inaugural 2008 Publishing Trendsetter, an award recognizing innovation that advances association publishing. CCIM was the inaugural recipient of the Association Forum Welcoming Environment Award in 2018, and he was recognized as one of Crain's Chicago 2020 Notable LGBTQ Executives.
Growing up in Missoula, Montana, Greg was instilled with an entrepreneurial spirit from his parents who were small business owners. He was a leader from his earliest years. This included becoming one of the state's youngest elected officials in history when, at age 18, he was elected to the Missoula County High Schools Board of Trustees. He was re-elected twice and served as chair. He is a graduate of The University of Montana, is an avid world traveler, and an award-winning amateur poet. A digital nomad, his current basecamp is in Scottsdale, AZ.
THANK YOU TO OUR SPONSORS & EXHIBITORS
Blue Cross & Blue Shield of Kansas