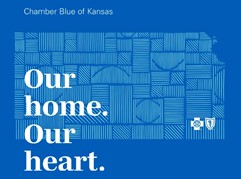 CHAMBER BLUE OF KANSAS
RESOURCE PAGE
A partnership between the Chamber of Commerce Executives of Kansas and Blue Cross and Blue Shield of Kansas
About the Program
Blue Cross and Blue Shield of Kansas (BCBSKS) and the Chamber of Commerce Executives of Kansas (CCEKS) have partnered with its members, chambers of commerce in the state of Kansas, the opportunity to offer their community businesses access to health insurance savings associated with large group medical coverage.
Chamber Blue of Kansas is an association health plan (AHP) that allows for employers to join together to purchase insurance. The larger pool of people enrolled in the plan allows the possibilities for more plan options, and potentially, lower cost.
The plan is open to employers who have two or more employees and are current, dues-paying members of an eligible chamber in the state and the chamber is a member of CCEKS.
Chamber Blue of Kansas offers employers the ability to attract and retain top talent by increasing access and buying power of more than a single business alone. Employers and their most valued asset – their employees – will receive access to:
A dedicated account management team with one-on-one support
More choice in plan options
Stability of rates with a larger pool of participants
A uniform rate for the group based on average risk rather than rating each member individually
Dental, life, disability and ancillary coverage offerings will be available to complete your benefit package
A list of participating chambers is below.  If your chamber is not listed and is interested in participating, please CLICK HERE.
Preparation for 2022 Fall Enrollment
What's in it for the Chamber?
Added chamber benefit and fulfilling members needs
Increased new memberships and retention of existing members
Non-dues revenue.  There will be an administrative fee on every contract.  The chamber will receive $10 per contract, per month, paid quarterly.  
The Chamber of Commerce's Role
Chamber must be a member in good standing with CCEKS
Chamber agrees to sign a MOU to grow the program through continuous marketing to their members in their community
Administration done by CCEKS and BCBS of KS
Protected geographical territory by city limits or to distance of nearest enrolled chamber (determination by CCEKS and the Chamber)
Non-dues revenue to the chamber paid quarterly based on per contract, per month
Quarterly participant reporting to Chambers
Group health plan is sold direct from BCBS of KS – not a broker program
The Business Member/Employer
Employer must be a member in good standing with the Chamber

Employer must have at least two (2) W2 employees to qualify

Employer MUST participate in the interest survey (August 2022) to be eligible for enrollment
Employer to pay at least 25% of the lowest cost option plan offered
Employer must have 70% of eligible employees enroll in group health plan (employees working 30 hours+ per week less those who have group coverage elsewhere x 70%)
Limited liability companies could qualify based on tax classification – determination by BCBS KS
If the group drops out of plan, they cannot re-enroll for 2 years. 
Andover Area Chamber
Atchison Area Chamber
Baldwin City Chamber
Coffeyville Area Chamber
Derby Chamber
El Dorado Chamber
Emporia Area Chamber
Fort Scott Area Chamber
Fredonia Area Chamber
Goddard Chamber
Great Bend Chamber
Greater Topeka Partnership
Hesston Chamber
Hutchinson / Reno County Chamber
Independence Chamber
Iola Chamber of Commerce & Tourism
Larned Area Chamber
Manhattan Area Chamber
McPherson Chamber
Newton Area Chamber
Norton Area Chamber
Osawatomie Chamber
Ottawa Area Chamber
Paola Chamber
Pittsburg Area Chamber
Pratt Area Chamber
Russell Area Chamber
Salina Area Chamber
The Chamber of Lawrence Kansas
Tri-County Area Chamber
Wellington Area Chamber
Winfield Area Chamber